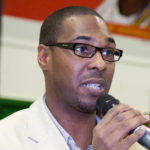 Hi, my name is Paul Crooks and I am a speaker for schools KS3 History and school enrichment programmes. I spent many years using public records to search for my roots.
My love of history was inspired by unprecedented success tracing my African ancestors enslaved on a sugar plantation in Jamaica. It strengthened my knowledge of Black peoples of the Americas, Britain's transatlantic slave trade and the abolition of slavery in the British Empire. I speak because I'm passionate about inspiring pupils' curiosity to know more about the past.
...he challenged stereotypes…even the normally silent students at the back were putting hands up to ask questions.
Chrysalis Multi Academy Trust, Kenton
I wrote my historical novel Ancestors  to bring to light the hidden tale of Jamaican rebels who forced the British Government to reset the timetable for bringing slavery to an end.
I wrote A Tree Without Roots as a guide for Brits interested in discovering ancestral links with the Caribbean.
School Curriculum Enrichment Programme Activities